Stools
I always wanted to make this stepstool, copied from a design by Simon Watts (except the heart cutouts are mine). Watts made the first one for Don and Connie Finkel, poet friends from St. Louis. This is made of cherry.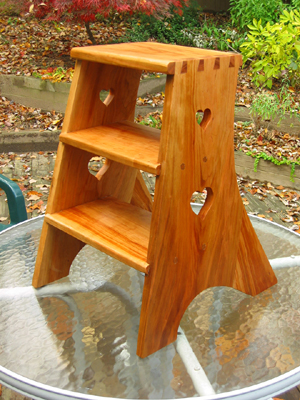 My daughter Jessie wanted a stepstool to stand on while she worked on large paintings, so I made this one for her of walnut. Its wider and steeper than the cherry one, with vertical instead of sloping sides.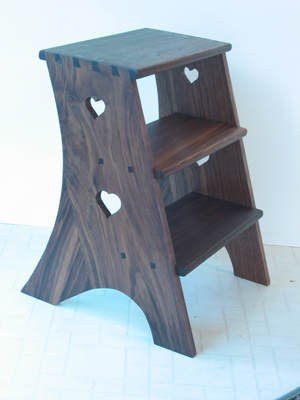 Here is the first chair that I ever made, in 2007. During the winter we often eat supper in front of the fireplace in our living room. We eat from a coffee table, and I used to sit on a small oak child's chair. So I made a chair for a full size bottom, but low enough to use with a coffee table.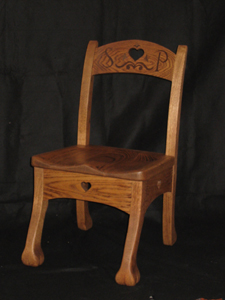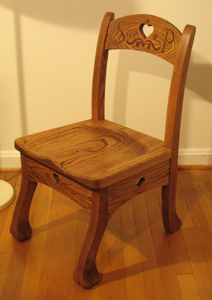 Here is a closeup of the inlaid chair back.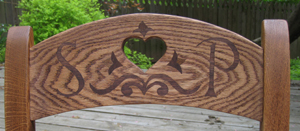 Here is the comparison with a normal dining room chair and the children's chair it replaces.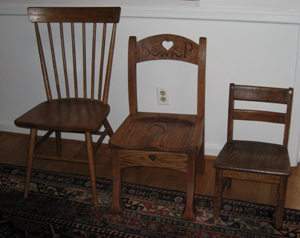 While I've always been interested in decorating the surfaces of things I made, I recently tried "chip carving". The guru in America is
Wayne Barton
. I got the idea for this stool from one of Barton's books. The first one I made is of basswood (which is called linden in Europe).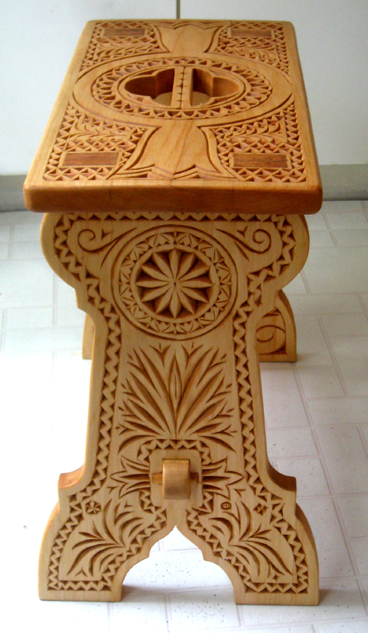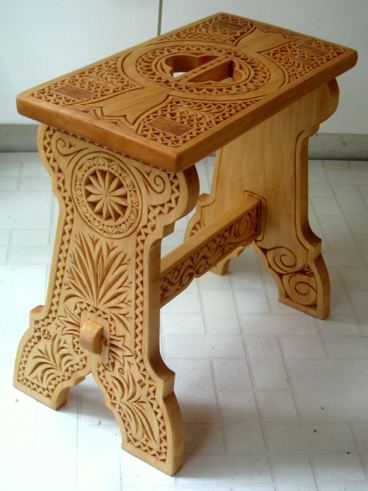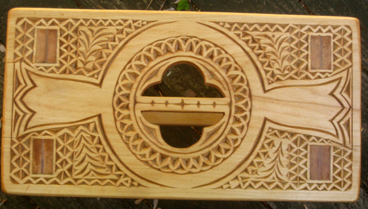 The second stool I made is of Spanish cedar, a nice reddish color. I like these stools.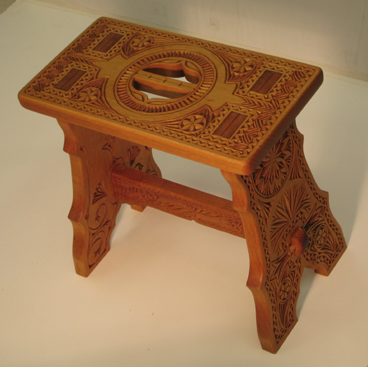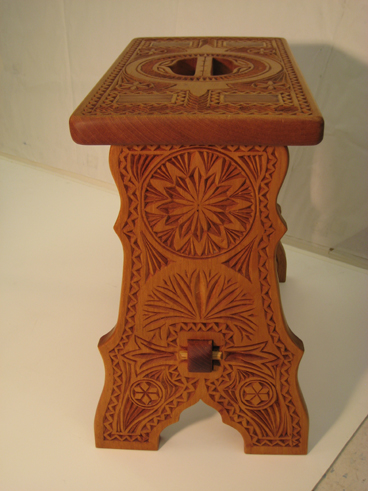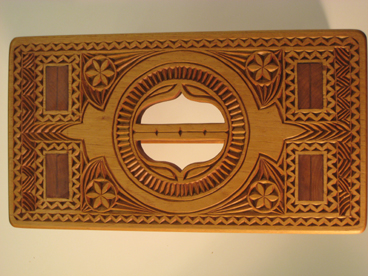 I put my initials and the date on the inside of one leg.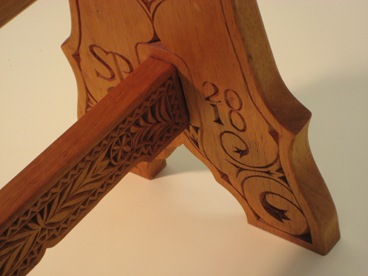 I made several stools for my granddaughter Sofie. First I made a three legged stool, which was fun because I shaped the legs. I made a test stool of pine first to work out the joinery and carving, before I made the "real" one from cherry. But the pine one came out pretty strong, so I painted it and gave her two instead of one.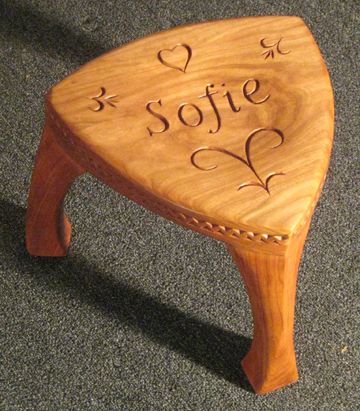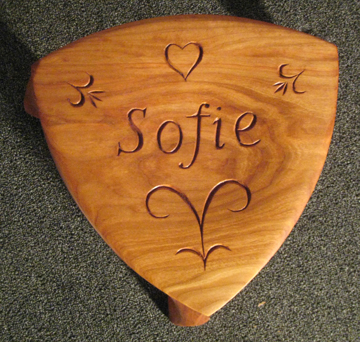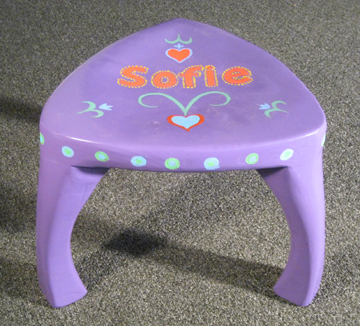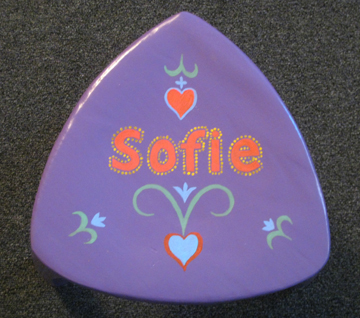 But these three legged stools can be tippy, and I wanted to make Sofie a chip-carved stool that she would pick up easily and carry around. So I made one of cedar.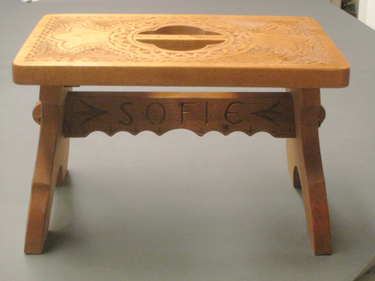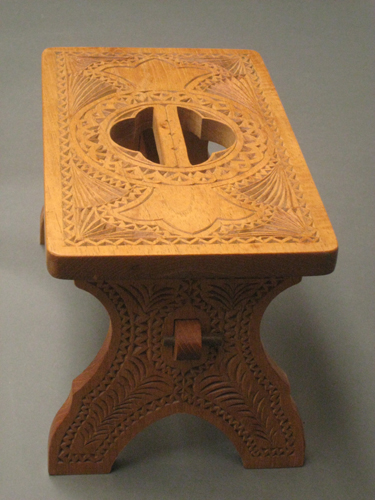 I made Sofie a rocker out of oak, with her initial inlaid in padouk. This involved steam bending the vertical slats of the back, a new skill for me. The horizontals of the back and the rockers were cut on the band saw.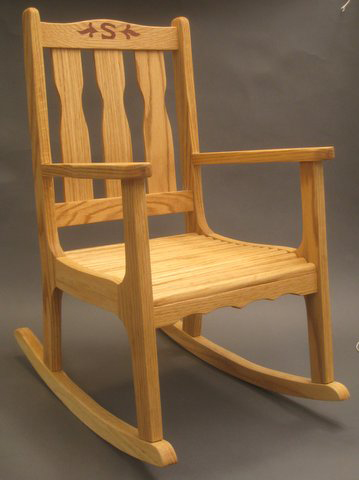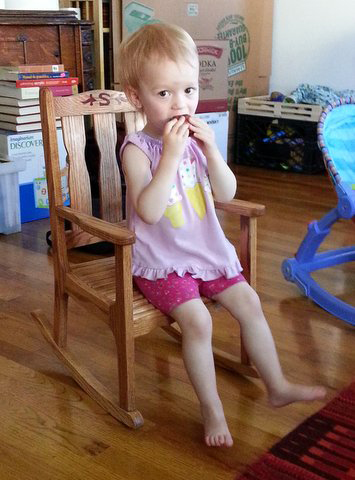 Return to
Woodworking page

Return to Home page